to bring you...
Snow and Ice!
This time last week, I was sailing in the Caribbean where it was in the 80's every day....now I'm iced in. Our door was literally iced shut and the poor pups went ice skating when I finally got the dang door open.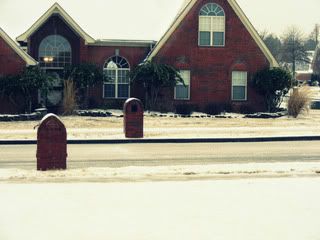 A friend gave me a recipe for the yummiest (from scratch) potato soup, so I decided to make some for supper!
It really hit the spot, but the pile of dishes in my sink did not!
Of course you gotta have cornbread to go along with soup!
Oh and you gotta have a good ole glass of sweet tea to wash it down!
I love cruising and eating gourmet foods prepared by executive chefs, but a Southern girl has to have her comfort foods!