During pregnancy, I tried to stay as active as possible and to eat "right". Right for me is not a whole bag of chips or donuts...dietician I am not!! I tried to walk every day and do light exercises. I knew I didn't want to gain more weight than I needed to because my lazy self wouldn't want to work it off after baby..ha! (and that whole what's best for baby thing!) My doctor reassured me each month that I was doing "beautifully" (even the month I gained 6 llbs....oops!), so I wasn't concerned.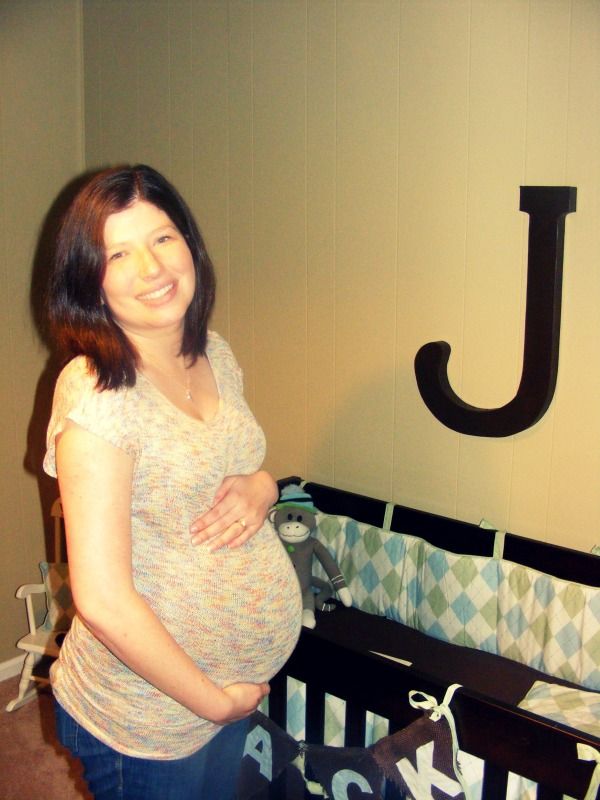 big momma just a few days before he arrived
After I had Jack, I immediately started walking again (lightly of course). My dad and I walked together during the day and I even walked with a "mom group". It was great. All my hard work (more likely genetics, truthfully) paid off and I lost all my baby weight before my 6 week check up.
Well, that is when the weight loss and exercise stopped. I started back to work and fell into a new routine and become robo-mom. Our days were/are so predictable it's unreal, especially when B had to work odd hours and I was nursing. Also, most of the fun "mom" work out groups meet during the day and I'm pretty sure it wouldn't be a good idea for me to just leave randomly every day. Thankfully, I didn't really gain any weight (I actually lost a few more llbs over the past few months...surprisingly) but I can totally tell I'm not at the place I want to be (um...hello toning!).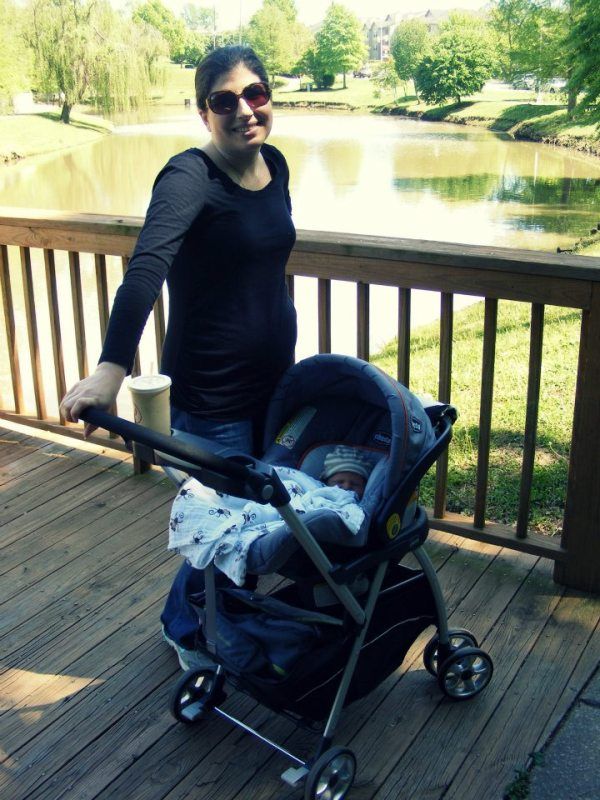 3 days after Jack was born
January 1st, Ben finally got a day shift (which is rare for a new guy), so I don't have to keep pawning Jack off on my mom/MIL to go to a class. Jack then decided he to wean, so I don't have to worry about all of that.
All of this means that now I finally have time for my ultimate goal of 2013 and beyond:
being a HEALTHY example for my son!
Ben is quite active...either working out or running several times a week. His job and life depends on it, so he's pretty religious about it. He's always encouraging me to go with him or to do something, but there WAS always an excuse: Jack needed to nurse, work ran late, nobody was able to watch J etc etc.
Now...there are NO excuses. I have to get myself back into the routine of working out (and making my health a priority). Of course it's hard to leave Jack, but I know it's mui importante (or something like that...Spanish wasn't my major!). I don't want Jack to grow up
just
seeing his dad working out and being healthy. I want to set a positive example too. I want him to grow up in an environment that thrives on health and wellness.
ignore the ugly suit and ghost skin! 6 wks postpartum
I found a local
studio
that offers a variety of classes and my sweet friend Kelly has even decided to join me for some! For once, I'm excited! So far I've taken a Yoga and Zumba toning and I already feel better (mentally and physically). I'm excited to go and that is huge! I also will continue walking if/when the weather gets nicer outside. I may even try jogging...Lord help me! I'm still technically a member of B's gym (wives can go free), so I may go there and walk on treadmill etc. I'm even toying with the idea of working out a few times with my mom's trainer. I'm just so excited to have fun options
I have a far way to go with the whole healthy thing, but I'm starting somewhere.Once I get on the ball with the working out, I will then add in the eating (aiming for Feb 1). No more cokes or cookies or anything else fun. Boo! I know I need to eat better, especially now that J-man will be eating more and more table foods. I'm pretty sure junk food aint going to be on his diet!!
Here's to a happy and healthy 2013 and beyond. That is....if it doesn't kill me first!!!